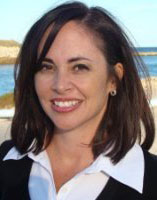 Lillian Murray is a personal development "life" coach who partners with her clients in creating meaningful, balanced, and fulfilling lives. She works with her clients to form clear visions for the areas of their lives where they seek results, and then projects are devised with set goals to achieve those results. Together Lillian and her clients create and implement structures as a way of hitting set milestones and achievements toward the client's goal.
Lillian coaches her clients to distinguish self-limitations, patterns from past experiences that affect present behavior, and the fear that may inform their actions and hold them back. Her coaching leads her clients into a true creative and limitless space, where solutions, ideas, beliefs, and decisions are made so that clients can personally break through to a new level of living. From there, with a working partnership, the results will unfold and her clients experience balanced lives that honor their own values and most meaningful commitments.
Lillian is certified as a professional coach and is certified in Parent, Youth and Family coaching from World Coach Institute in Hollywood, Florida.
She is a member of the international coaching federation, ICF.