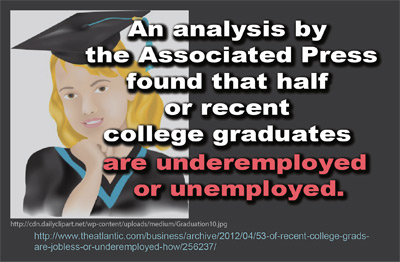 By LISA SWAN
If you are graduating this spring, you may be looking for your first job out of college right now. Or perhaps you have a year or two before you finish college, and are pondering the situation. So how do you do so, when the economy is rough, and the field is so competitive? Here are a few tips:
Get a job while in school
This advice is more for if you have at least a year to go before graduation, but it can help your future career endeavors if you work while in school, whether it be in the field that you are studying, or some other field. Some employers want to hire people who have experience in the workplace, even if they are fresh out of college. That is because if you have worked before, you understand the importance of things like getting to work on time, following orders, and completing projects.
In addition, you may be able to move up at the company after you graduate, depending upon your individual situation. Even if you want to move on after you get your degree, working part-time while you are in school will be invaluable to your life.
Get an internship
You may need to work at least one internship – whether before you graduate or afterwards – in order to get permanent employment. Some internships can be for college credit, but some of them will be unpaid, with no school credit involved.  The concept of internships is one that has been controversial as of late, with some calling it exploitation. In some fields, though, especially the "glamorous" ones like the media , entertainment, and fashion, internships are the only way to eventually get an entry-level profession in the field.
Participate in job fairs at your school
Many employers will come to your college to recruit employees. You should talk to as many as you can, to possibly find future employment. This is an advantage you can have over other people looking for jobs, in that they are coming to your school to talk to students like you. So make the most of it.
Talk to a career coaching expert
Hiring a professional in career coaching is not just for those who have been in the workplace for years. In fact, hiring a career coach now can be even more important than later on in life, because it is critical that you get your career off on the right foot. Click here to learn more about career coaching.