Our Executive Coaches are experts in supporting business and non-profit leaders to develop their skills, business plans, vision, communication, leadership and more. We have extensive experience working with businesses of all sizes, from smaller entrepreneurial organizations to leaders at larger companies including Credit Suisse, Morgan Stanley, ABC, the World Health Organization, Dean Witter,  Johns Hopkins University, Disney, Phillips, Sun Microsystems, JP Morgan Chase, Steiner Leisure, Cingular Wireless, and Fuse TV.
Our Executive Coaches are mostly all successful entrepreneurs and executives with real world experience-  ready to support and train you to achieve your goals.
We work with Executives at …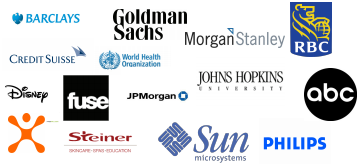 Executive Coaching Areas of Impact:
Executive Coaching and training for CEOs, entrepreneurs, and senior executives & potential executives
Enhancing  people management skills
Developing a unified vision of growth and development over the next 3-5 years
Strengthening conflict resolution skills
Visioning, strategy development, &  goal setting
Transition coaching and assimilation
Enhancing interpersonal skills and communication abilities
Performance development and effectiveness
Working effectively with colleagues with different leadership styles
Creating and executing detailed action plans to insure enrollment and accountability
Retirement Planning
Executive Coaching Areas Near You
We offer Executive Coaching services in New York, NYC, Los Angeles, LA, Chicago, San Francisco, Boston, Philadelphia, Seattle, Dallas, Houston, and worldwide. Give us a call and discover how an Executive Coach can have an impact on your's and/or your company's world starting today.